Have you guys seen
Life, etc
? This is the cutest blog written by Emily. She has great fashion style and the best hair I have ever seen! Anyway, she has a new linky party called
Little Letters Linkup
.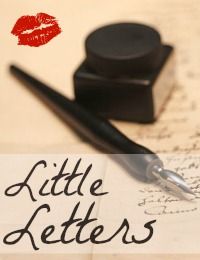 It looks like fun so I am joining in. Here are my little letters:
Dear Mother Nature,
I can see that you have been very, very generous with the rain in Las Vegas and Utah. Parts of Colorado even got snow today! Could you please spread the love? I'd be very happy to see some rain here. Thank you.
Dear gas prices.
Enough. Seriously.
Dear Murphy, Rusty, Sandy, Fromage, Autumn, Beethoven, Bandit, Tesla, Geordi, Tina, Charlie, Kiki and Pepe,
Fur, shells, feathers and all, I love you <3
Dear Christopher,
You are my hero.
Christopher